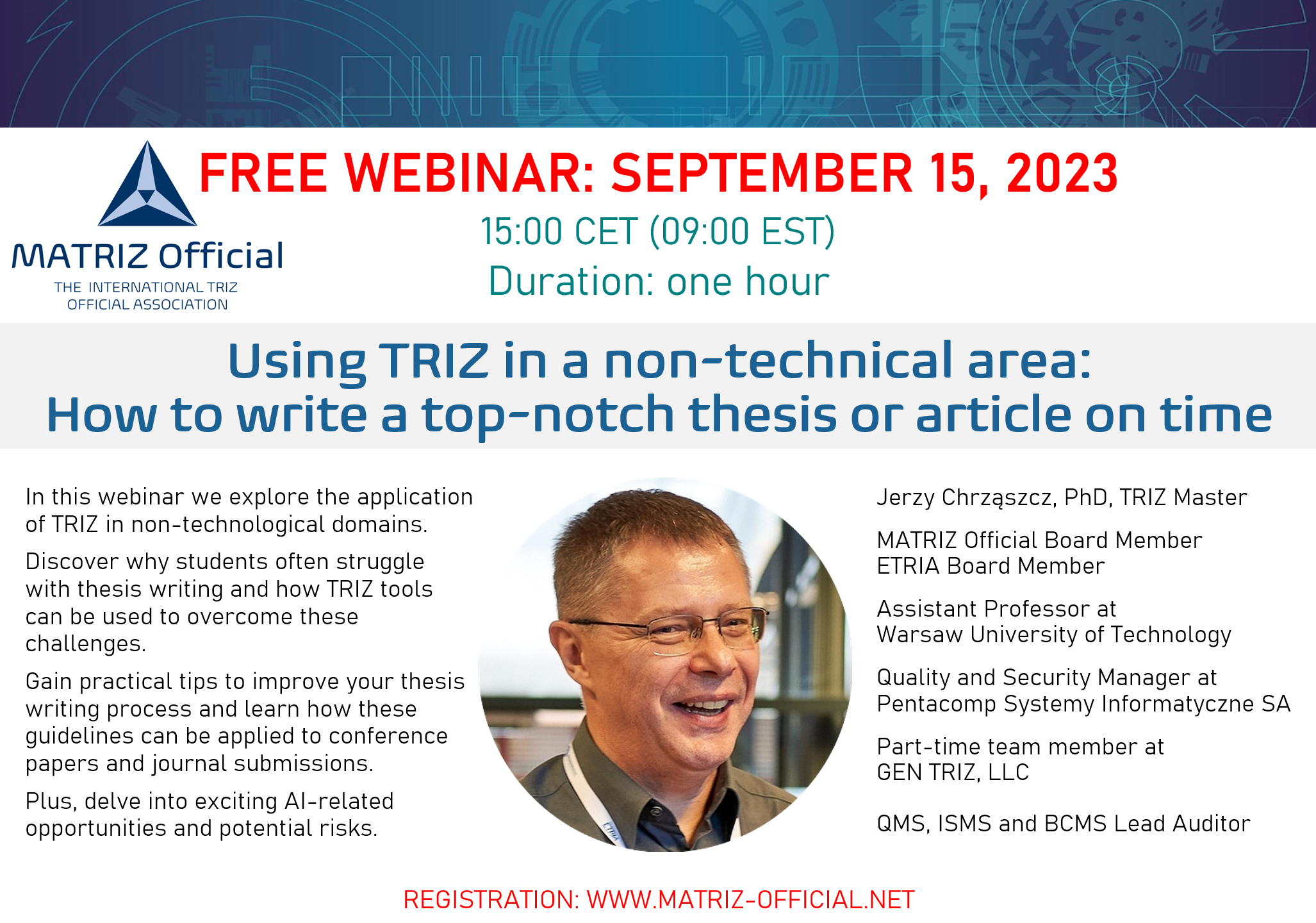 September 15, 2023
Time: 15:00-16:00 CET (09:00-10:00 EST)
TRIZ has traditionally found its primary application in the area of technology, focusing on product and process innovation. However, over the past fifteen years or so, there has been a noticeable increase in its adoption within non-technological domains. In this webinar, we're going to explore one such intriguing application.
Writing a thesis has been a longstanding task in academia, undertaken by countless students. But let's be honest, it's still a tough nut to crack, and it seems like students keep making the same old mistakes time and time again. Ever wondered why? Well, most students are venturing into the realm of graduate thesis writing for the first or second time, so they lack substantial personal experience to rely on.
To compound the issue, the prevalence of social media and instant messaging over the past few decades has led to a decline in the amount of time students spend reading those extensive, well-structured documents that are vital for crafting a solid thesis. It's no wonder that their ability to write well-organized papers has taken a hit.
Now, there are a myriad of requirements that come with thesis writing. And often, they clash with each other. The key demand: your thesis must be delivered on time and adhere to the standards of excellent content and quality to earn that highly sought-after degree.
In our webinar, we're going to tackle these challenges head-on and demonstrate how TRIZ tools can be leveraged to solve non-technical problems associated with thesis writing. We'll equip you with practical recommendations and tips that will serve as guidance throughout the process. You can also apply these guidelines when preparing papers for conferences or journal submission.

Oh, and guess what? We'll also touch upon some exciting AI-related opportunities and potential risks along the way.
ABOUT THE SPEAKER
Dr. Jerzy Chrząszcz has held the position of Assistant Professor at the Institute of Computer Science, Warsaw University of Technology, since his graduation in 1986. Alongside his academic work, he has been involved in various IT-related projects as a contractor. These projects have covered diverse application areas such as access control, call billing, intrinsically safe RF identification for miners, and oil pipeline inspections.
In 2001, Dr. Chrząszcz joined Pentacomp Systemy Informatyczne S.A., a software company, where he has held multiple roles including Project Manager, Quality Manager, Security Manager, and R&D Coordinator.
In 2015, Dr. Chrząszcz entered the realm of TRIZ. Since 2018, he has collaborated with GEN TRIZ. LLC on several TRIZ projects. In 2022, he achieved the distinction of becoming the first TRIZ Master in Poland.
VIDEO