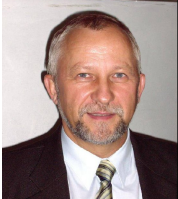 by Simon Litvin, November 13, 2023
Dr. Oleg Gerasimov, TRIZ Master, passed away on November 13, 2023.
Oleg Gerasimov was born on April 3, 1955 in Leningrad, USSR. In 1978 he graduated from the Leningrad Institute of Water Transport. His background was mechanical engineering, internal combustion engines, heat exchange equipment, and pumps. He was awarded the PhD title in 1992 and became an Assistant Professor in 1998.
Dr. Gerasimov studied TRIZ at the S-Petersburg TRIZ University from 1990 to 1992. His TRIZ trainers were TRIZ Masters V.Mitrofanov, B.Zlotin, S.Litvin, A.Lyubomirskiy, V.Gerasimov, A.Pinyayev, V.Kaner, and V.Kryachko. In 2010, Dr. Gerasimov was awarded the TRIZ Master title by MATRIZ.
From 1992 to 2014, Dr. Gerasimov worked at the TRIZ company Algorithm (formerly Invention Machine Engineering Center). From 2014 to 2019, he worked at Healbe company, and then at Rusal TRIZ Center.
His friends and family, including his TRIZ friends and colleagues, will remember him as a great TRIZ Master, smart, generous, and absolutely reliable person.
From all of us at MATRIZ Official, who had the privilege of knowing Oleg, to Oleg's family – please accept our heartfelt condolences!